The SoftBook Reader™ is specifically designed to provide a comfortable, legible, and portable way to purchase and read electronic newspapers, magazines, books, and documents. And every SoftBook Reader is covered by a full 30-day money-back satisfaction guarantee.
The Future of Reading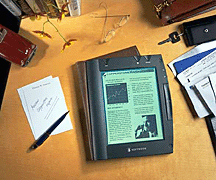 The SoftBook® Reader gives you access to thousands of pages of periodicals, books, and documents all within one slim, leather-bound device that weighs just 2.9 pounds. With the SoftBook Reader and a telephone line you can subscribe to and read the latest issues of your favorite news and business publications.
The Electronic Newsstand makes it easy to keep your SoftBook Reader up to date with the latest news and periodicals. Or download a new book from the extensive catalog of best sellers and classics in the SoftBookstore™. Available anywhere and anytime—while traveling, commuting, or just relaxing. You can even publish your own Microsoft Word documents to your SoftBook Reader.
Easy to Use
Open the protective leather cover and the SoftBook reader turns on instantly and is ready to read. The SoftBook Reader closely emulates the traditional reading experience by showing a full page on its portrait display with fully formatted text and graphics. It enhances the reading experience with features such as search, annotations, and hyperlinks.
Unlike a computer, the SoftBook Reader does not use page scrolling which disrupts the reading experience. Instead it uses a page-turning system similar to turning the pages of a real book. Refreshing the SoftBook Reader with new reading material simply requires a standard phone line. No computer is necessary. The SoftBook Reader's built-in modem quickly connects you to the SoftBook Network where you can purchase new titles from the SoftBookstore, subscribe to and automatically download the latest issues of your newspapers and magazines, or store and download your own documents.
Online Bookshelf and Bookstore
Every SoftBook Reader is seamlessly integrated with the Internet—providing a virtual library available from any phone line. Simply click the menu button and select the SoftBookstore to purchase materials anywhere and any time a phone line is available. Your purchases will be stored on your Online Bookshelf where you can download them to your SoftBook Reader as often as you like. You can even publish your own documents to your Online Bookshelf and download them to your reader for extra functionality.
Award-Winning Design
The SoftBook Reader is ergonomically designed for reading. In addition, its protective cover and durable housing have been specifically designed to withstand the rigors of travel. A rechargeable lithium-ion battery pack provides two to five hours of reading (depending on display settings) with a fast, one-hour recharge. The removable battery pack enables continuous reading beyond the limits of one battery.


Answers:
Product information
Where can I see a SoftBook Reader?
The SoftBook Reader is not sold in stores. But we do offer a full 30-day money back satisfaction guarantee. Buy with confidence; if you are not satisfied you can return the unit for a refund.
How much are books for the SoftBook Reader?
Most titles are priced 50 to 75 percent less than the suggested retail of the hardcover edition. As the eBook market grows, publishers' pricing should continue to drop.
Can I use the SoftBook Reader to read RocketEditions? PDF files?
The SoftBook Reader does not support file formats other than SoftBook Editions. We are exploring ways to support RocketEditions. The reader does not support PDF files.
Do I own the content I purchase? How is it stored?
Yes. When you buy content you own it and it is stored on your personal online bookshelf. You choose when to download it to your SoftBook Reader. If you delete a book from your SoftBook Reader, it remains on your online bookshelf and you can easily download it to your reader again at any time.
Can I put my own documents on my SoftBook Reader?
Yes. You can save Microsoft Word documents as SoftBook Editions and send them to your online bookshelf with SoftBook Personal Publisher™.
Can I access my online bookshelf or purchase books when I'm away from home?
Yes. Just connect your SoftBook Reader to a telephone line and tap the Bookstore or Online Bookshelf icon. When the reader attempts to dial, tap the Settings button at the top of the display. From the phone connection menu you can reconfigure how your reader dials and instruct it to locate a local number. You can also program the reader to use a custom ISP number from this menu.
Can I download SoftBook titles from the Internet to my computer?
No. The SoftBook Reader was designed as a portable and user-friendly electronic book. Because it only needs a telephone line to purchase and download eBooks, a computer is not required and is not supported.
Can I change the type size on the SoftBook Reader?
Yes. You can choose to read any SoftBook Edition in regular or large type.
What types of documents can I send to my online bookshelf?
You can send Microsoft Word documents from your computer straight to your online bookshelf with SoftBook Personal Publisher™. We also offer powerful tools for more complex publishing.
I entered my SoftBook Reader serial number but uploading a document fails.
Enter the entire serial number: SB00000#####
When I installed my memory upgrade the books on my SoftBook Reader are missing.
The books are temporarily unavailable after installing a memory upgrade. Connect to your online bookshelf to download them.
I installed my new memory but my SoftBook Reader doesn't reflect the extra storage capacity.
SoftBook Press ships flash memory that is compatible with SoftBook Reader viewer software version 1.1 or higher. To check which version is on your SoftBook Reader, turn it on, choose the Info menu option, then tap More.